Home
Reclaim Rubber
Applications
Non-Tyre Applications
Non-Tyre Applications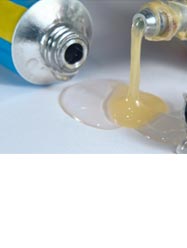 Adhesives
Adhesives are used to binds two materials together and resist their separation. The use of adhesives offers many advantages such as sewing, mechanical fastening, thermal bonding etc. It gives cost effectiveness as easily mechanized process. Key properties required in Adhesives are, it should able to wet the substrate & must harden with time.
There are many types of adhesives such as Drying adhesives, Pressure-sensitive
adhesives, Contact adhesives, hot adhesives etc.
A typical applications of adhesives are Structural, Industrial, Packaging, Electrical & Electronics, Laboratory, aerospace etc.
A typical Adhesive formulation contains a blend of Butyl Rubber, Chlorobutyl Rubber and Reclaim Rubber.
Recommended Grades of Reclaim Rubber & Benefits
Butyl Reclaim:
Chlorobutyl Reclaim:
Typical Benefits:

Better tackiness

Easily compatible & Homogeneous mixing with virgin polymers

Smooth finish, which gives good bonding strength and resistance to separation of two materials

Better physical properties

Better ageing properties
Note: For suitable formulations, please contact us. We will help you with your specific requirements and provide recommended formulations.