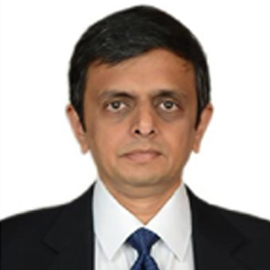 Saurabh Shah
INDEPENDENT DIRECTOR
Saurabh Shah has more than 20 years of experience as advisor in the fields of public equity investments, private equity, capital markets and Merger & Acquisition in India.
He is a Director of Citicorp Finance (India) Ltd., and Partner in AUM Fund Advisors LLP and AUM Asset Advisors LLP.
Prior to founding AUM, Saurabh Shah was a Partner and Member of the Board at 3i India from 2007 for more than 5 years. He was at different times, the head of Buyouts, responsible for Growth Capital and one of the partners of the $1bn India Infrastructure Fund. He has experience in leading the origination, evaluation, due diligence, closing and asset management of various private and listed investment opportunities across several industries.
Prior to 3i, Saurabh Shah was a Senior Director and part of the founding team of Citigroup Investment Banking (formerly Salomon Smith Barney) in India for more than 12 years. He led the bank's relationship and transaction teams for many of the largest and most significant M&A and capital raising transactions at the time for Indian businesses both in India and overseas.
Prior to Citigroup, Saurabh Shah worked with Salomon Brothers, New York and ran his own accounting practice in Mumbai.
Saurabh Shah has an MBA from the Stern School of Business at New York University and an undergraduate degree from the University of Mumbai. He is also a member of the Institute of Chartered Accountants of India.