Home
Industrial Polymers
Industry
Industry

Nylon 6 - Electrical & Electronics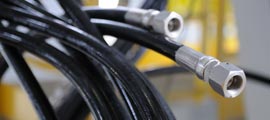 Product Description
Electrical & Electronics (E&E) is fast growing industry segment. Nylon 6 compounds finds applications in many components in the E&E sector like connectors in mobile phones, motherboard of computers, connectors, terminal blocks, circuit breakers, power tool housing etc. due to combination of excellent electrical & mechanical properties like its toughness, good di-electric strength, flame retardant characteristics and insulation resistance.
Typical applications of the unfilled Nylon 6 are as below:

Cable glands

Sockets

Computer peripherals

Connectors

Terminal Covers

Plugs &Wire nuts
In unfilled Nylon 6, GRP's reprocessed GRPLON055G & GRPLON060M are used for computers peripherals, cable glands, plugs, holders, switches etc.
Typical applications of glass filled Nylon 6 are as below:

Circuit breakers

Switch housings

Relay parts

Power tool parts

Instrument housing

LED parts

Lamp housing
In glass filled reprocessed Nylon 6, GRP's GRPLON15GF & GRPLON30GF are used for switches, relay parts, power tool parts etc.