Home
Reclaim Rubber
Applications
Non-Tyre Applications
Non-Tyre Applications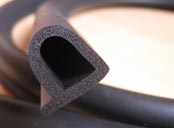 Profiles
Rubber profiles are generally made from Extrusion process. Such rubber profiles majorly used in Automobile parts.
A typical profile formulation contains a blend of EPDM Rubber and Reclaim Rubber. Key properties required in profiles are good heat, ozone & weather resistance, smooth surface finish, crack resistance etc.
Recommended Grades of Reclaim Rubber & Benefits
EPDM Reclaim:
Typical Benefits:

Smooth surface finish

Good heat, ozone, and weather resistance

Replaces virgin EPDM & helps in reduction of compound cost

Faster Mixing & Extrusion

Reduced energy consumption

Absence of blemishes consistent splice strength

Good cost effective compound
Note: For suitable formulations, please contact us. We will help you with your specific requirements and provide recommended formulations.